With more than 2.200 research and advisory experts doing rigorous analysis for clients in nearly 90 countries worldwide, Gartner is an established and highly trusted authority in the IT sector.
The recently published 2023 global edition of the Gartner Magic Quadrant for Managed Mobility Services is now available. Out of 17 vendors in this study, only four are placed in the top half for their «Ability to execute». In addition to being the only Nordic player in the grid, Techstep is one of these four, and the only one to be named a «Challenger».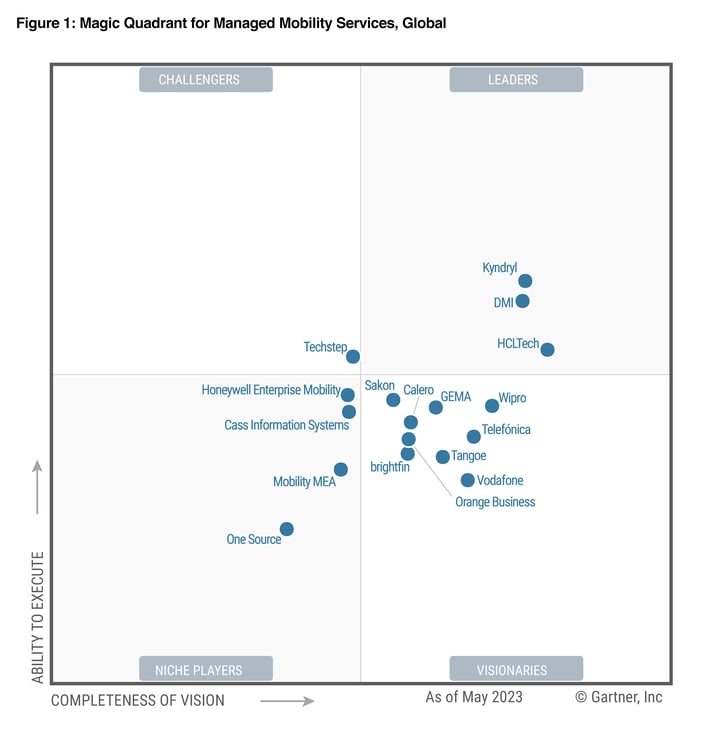 Streamlined portfolio and continuous innovation
- We are very pleased to see that Gartner yet again recognise Techstep as a Challenger, moving slightly to the right this year, says Mads Vårdal, Chief Product Officer at Techstep.
The report lists three key factors as Techstep's strengths as a provider of MMS:
Streamlined portfolio:

Techstep has rearranged its disparate solution portfolio into three areas each comprising standard building blocks: Lifecycle (fka SmartDevice; device lifecycle services for end users), Managed (fka SmartControl; for managing the ecosystem of customers, including software), and Amplify (fka SmartWorks; for frontline workers).

Evolving XLA environment:

Techstep does not offer XLA's, but as part of its digital experience monitoring (DEM) capabilities, it is introducing experience performance indicators (XPI's) that will evolve into XLA's. Techstep also applies sentiment analysis on its help desk to detect any situations where it reaches its SLA but the customer is still not happy.

Continuous innovation across the portfolio:

Techstep's innovation centricity is exemplified by the following launches in the past two years. Techstep now offers a travel kit comprising a loaned "clean" device to be used instead of a regular device on trips to sensitive countries. It offers refurbished sustainable devices that are not only serviced in the given country. These devices feature rapid deployment from 11 templates/blueprints optimised for different customer personas. Selecting a standardised template allows for implementation within a week after signing the contract.
Continued validation towards the Nordic market
To qualify for the Gartner Magic Quadrant for MMS, providers must satisfy each of the following inclusion criteria:
Have at least 1.5 million smart mobile devices (exclusive of "dumb" phones) under management globally by the end of October 2022.

Support at least 25% of their installed base or a minimum of 500,000 devices outside of their home region by end of October 2022.

Generate at least 25% of their MMS revenue through internal resources.
- We are proud to be validated by a leading authority in the IT sector like Gartner. This can only strengthen our customers´ trust and confidence in us since we are the only Nordic, and one of very few European players in the grid, says Techstep CEO Børge Astrup.
For further reading and complimentary access to the report, click here.