Summary
It's paramount to understand which tools and technologies help to address the change drivers -affecting the organisation and how they underpin common goals. Use this post to find out the interdependencies that will help put a prioritised roadmap in place, to better support the new way of work.
What are the learnings from the last 30 months?
Almost all organisations have learnt the same 3 things in the last 30 months:
IP based voice in Unified Communication apps on laptops and mobile devices work better than desk phone/fixed line voice – experienced across all levels in organisations.


Out of sight is not out of line – focus has shifted in most organisations to ensure a proper work/life balance, ensuring that remote employees have a productive environment and performance evaluations have changed to outcome-based assessments.


Mobile devices have become more engrained in the organisation.
Backup to laptop as well as for home broadband, and providing home office mobility.

Needed for MFA (Multi Factor Authentication) and other mandatory apps like booking a hot desk before coming into the office, getting into office using NFC on the phone instead of swiping a badge etc.
Common pain points across most organisations, applicable to both desk based and frontline workers in most cases, include:
Logistics challenges to receive, stage and send laptops and mobile devices to employees´ home offices. For most organisations, this is not an activity that add business value. It's something that can be out tasked to a logistics partner that have the facilities and systems in place to perform this quicker, more cost effective and typically with higher quality.
Difficult to keep laptops patched and updated if the current solution requires a VPN connection as the update/patch packages can be fairly large and the quality of home broadband may vary a lot.
Difficult to collaborate when everybody meets virtually. Built-in tools in some meeting platforms are very rudimentary.
Difficult to schedule meetings and employees are suffering from "meeting fatigue" when everyone is in back-to-back virtual meetings.
Challenging to support desk-based users working out of a home office due to:
- The device never "comes in to an office" which means that it "never" gets connected directly to a corporate Lan.
- The home office infrastructure may be a bottleneck but is very difficult to trouble shoot remotely without a set of proper tools.
During the pandemic, a lot of frontline workers were forced to change the way they worked, predominantly to meet social distancing requirements. A lot of these changes have now become part of new best practice work processes. Frequently, frontline workers have become lone workers. These changes can include and be supported by activities like remote expert guidance, remote certification and collaborative work management. Increasingly, frontline workers are also exposed to a growing amount of IoT data in the form of dashboards or work orders, and tasks auto generated from real time analysis of IoT data or video streams.
How will work look like moving forward
Hardly any organisations will go back to having close to 100% of the desk-based workforce working out of corporate offices. Instead, they'll have a mix of (only percentages will differ based on region, vertical and corporate culture):
Full-time remote workers (typically 10-55%)

Part-time remote / hybrid workers (20-80%)

Office based workers (5-25%)
It'll be very rare to have all meeting participants in the same room as organisations want to reduce travel cost as well as improve sustainability. CFOs are favouring virtual first and remote first paradigms as they have served the organisation reasonably well for 2.5 years - when mandated and saved a lot of cost. Traditional desk phones are rapidly becoming decommissioned in many organisations as employees on all levels in the organisation have experienced that laptops and a smartphones are superior for communicating internally as well as externally. Increasingly, providers of cloud-based communication solutions are introducing partnerships with mobile operators to enable use of the mobile phone number and dial plan also in apps on smartphones, tablets and laptops. A global trend is that more and more work gets done on mobile devices especially for the younger generation, but laptops are still needed for selected tasks.
For frontline workers, in addition to increased lone working, these best practices include:
The old way of front loading a lot of training when hired, typically class room-based training, is being replaced by on-the-job training supported by just in time training, self-help and remote expert guidance. Up front training is typically minimised to just mandatory harassment and safety classes.


During the pandemic, it became paramount to get it right the first time as customers "flat out" refused to have another visit by potentially another person to resolve an issue. Also, self-installation by customers, supported by remote experts, became more popular. Initially, both of these techniques aimed to reduce human contact, but in the new way of work, it has become a way to reduce truck rolls and increase customer satisfaction.


Many verticals in many regions, e. g. utilities are facing a large portion of their workforce retiring within the next 5-10 years. This means that capturing knowledge from an aging workforce through AR, annotation, and curation to be used to train new generation workers become a priority.


A lot of organisations have started to use of image or video analytics based on AI/ML (Machine Learning) to verify that the task has been performed correctly (QA), for compliance (to record the task being performed) and as proof of delivery of the service/task.


The increased use of cameras on mobile devices as well as using them to collaborate, access work orders and dashboards with predictive information helps drive more and more rugged mobile devices into the hands of frontline workers.
Additional change drivers
Recruiting and retention have become a challenge in many countries and verticals. The retail vertical in North America is a good example of this phenomenon but it exists in many more regions and verticals. This is also compounded by many verticals having an aging workforce where a sizeable number will retire within the next 5-10 years. There is also a widespread expectation to be able to work from home and organisations that are not willing to offer this, at least partially, will be at a disadvantage. A relatively new phenomenon is that the younger generation, when working in client facing situations, don't like to fail in front of a customer. In short, they don't accept working for a company that won't make them successful in the eye of the customer.
Additional change drivers include:
Cybersecurity threats continue to increase and is top of mind for executives.



The rapid pace of software updates is just increasing as more and software is developed in shorter sprints and with more versions, as well as a large number of patches and fixes to mitigate cybersecurity threats.


Logistics challenges – employees and devices never coming to office require techniques and tools to onboard them remotely as well as to support them remotely.


Increased financial pressure to not go back but to embrace virtual first, remote first and hybrid work as the new norm - to reduce office and travel cost.


Cost reductions are expected while there is increasing expectation to become more agile as an organisation.



Increased focus on health and safety in many countries and verticals, frequently driven by legal requirements as well as Corporate Social

Responsibility.
Typical goals to be found in many organisations
Improving the Employee Value Proposition (EVP) and Employee Enablement have become more and more important as the fight for talent is becoming fierce. It's increasingly important to provide the tools, services, support and training to make employees successful and feel appreciated. Improving the employee experience of their end user computing environment is great from an EVP perspective and it helps to manage cost – the best help desk ticket is the one never created – by solving issues proactively.
Other goals frequently include:
Endpoint diversity – more work is moving to mobile devices.

Efficient patching and updates to battle zero-day vulnerabilities.

Remote Expert Guidance (REG) for all employees, both in client facing situations as well as when supporting remote work.

Increase operational agility is a corporate expectation across the entire organisation.

Reduce cost of change to become a nimbler organisation.

Preventing accidents and better assist employees in dangerous situations driven by increased lone working.
What needs to happen to successfully support the new way of work
The following is a list of actions to consider to be able to successfully support the new way of work:
Embrace more use of smartphones and tablets. Smartphones are no longer a status symbol; they've become essential for most desk-based workers to be able to work effectively. The preferred way to use MFA is an app on a smartphone. Going back to hard tokens or using dial back isn't really an option. Without MFA, increasingly employees can't log in nor get access to any information on cloud-based systems. With the advent of desk phones going away, smartphones become the only phone for employees.



Invest in DEX (Digital Employee eXperience). A DEX Score is constructed by collecting information from different systems and can be used to assess the impact of changes, upgrades and process improvements and can be used to decide future investment areas. There is a whole market of Digital Experience Monitoring (DEM) tools in various states of maturity leveraging:




Real user experience
Device information
Synthetic transactions
Use REG to support employees in a home office as well as in the field. Enable a remote expert to see what the user sees and direct them. Remote expert can become a career path for frontline workers in field service management as an example or for disabled employees.
REG comes in two flavors:

Business with a collaboration focus – the assumption is that this is between employees or "extended" employees working for a third party. Frequently, this is also used for remote inspections.

Consumers or employees in a home office environment where there is a strong privacy focus, where the end user stays in control of what and when to share.
Migrate to Modern Endpoint Management which is typically cloud based management tools and very lightweight management. The O/S sends inventory and telemetry information to a Unified Endpoint Management (UEM) platform over the Internet. Software packages and updates arrive from OEMs which imply trusting their QA. Imaging has been abolished, the starting point is the OEM image and then everything else needed is layered on top. There is no need for LAN or VPN connectivity – no need to stage - ability to drop and ship device directly to employee from OEM/distributor and remotely enroll/configure/layer software.




Leverage automation and self-healing via AI/ML to identify and fix issues before they become visible to the end user.


Invest in hybrid meeting solutions to democratise meetings as occasions with everybody being in the same meeting will be very few.


Contract managed service providers to bridge the skills gap, take out logistics challenges and bring best practice proven processes and tools.



Invest in lone worker protection (LWP) and monitoring devices to protect your employees.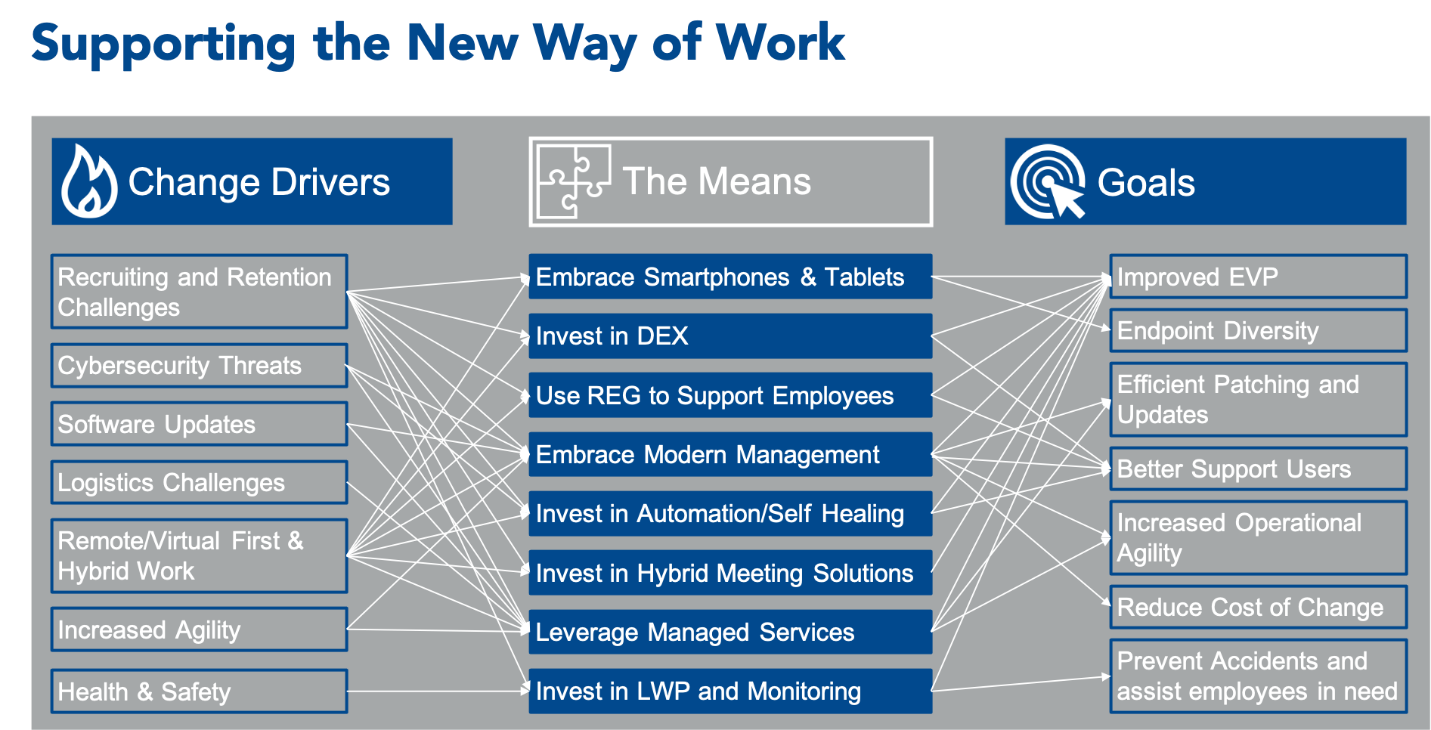 Recommendations
Start by assessing the most relevant change drivers in your organisation and what goals your organisation have set up explicitly or implicitly. Use figure 1 to understand what are the tools and technologies (The Means) you need to embrace, in order to support/handle the most relevant change drivers in your organisation. Figure 1 also indicates which goals an individual tool/technology underpins. Prioritise which tools and technologies your organisation will need to embrace and in what order, to get the maximum benefit over time.
Leif-Olof Wallin
Tech Adviser
Follow him on Linkedin

Leif-Olof Wallin is an independent Tech Advisor who specialises in Enterprise Mobility, Frontline Workers and Remote Work.

He was formerly one of the Gartner analysts who published most of the Gartner research around remote work and how to support "the new normal" from an IT perspective.