For many occupational groups it is now the rule rather than the exception for employers to provide their employees with mobile phones and data plans.
It's a win-win scenario: Employees often get a more advanced phone and a better data plan than they might otherwise have been able to afford, and employers can use effective channels to communicate with their employees – potentially around the clock.
Avoid the minefield
Still, employees' mobile phones can easily become a minefield for many organisations. Imagine: One employee has suddenly decided to buy a data plan while on holiday abroad (although they never did anything work-related), another wants a more advanced phone than the standard company model, while a third has ordered two twin SIM cards (presumably for their cabin cruiser's WiFi hotspot or daughter's iPad).
In such situations, the costs can quickly mount up, and then the question ultimately becomes who will get what and where to set limits. Often, the HR department is tasked with clearing up the mess and tightening the purse strings, especially if various practices in different parts of the organisation have spiralled out of control. Clearing up such mess is invariably a thankless task, with major potential for creating lots of dissatisfaction – in addition to sky-high bills.
That is why it is a smart move for the company to get their mobile phones in Techstep Lifecycle. One of the many benefits of this solution is that it not only requires your organisation to define a good mobile policy (which by the way you can copy straight into your personnel handbook), but that it also makes it easier for the organisation to follow your newly defined rules. The solution also makes it easier to deduct costs that the employees must pay for themselves.
In addition to providing highly efficient tools, Techstep also has a wealth of experience when it comes to what to include in this type of policy and what has worked well in other organisations. As well as reducing the number of routine tasks to be performed by your HR department, it can also reduce the entire organisation's mobile phone costs.
Easier on- and off-boarding
Many modern HR departments have also found that Techstep Lifecycle makes it much easier to manage devices for newcomers and leavers.
New employees receive a package by post with a brand-new mobile phone that effectively sets itself up (something that younger employees in particular appreciate). If the phone needs to be repaired, a replacement phone will come in the next shipment. The old phone is returned for repair, recycling or destruction – depending on its condition.
Leavers can either purchase the phone outright (after the employer has deleted all work-related content) or send it back by post, knowing that Techstep will ensure that all sensitive content is deleted before the device is given a new life in the second-hand market.
Techstep Lifecycle digitises the end-to-end process based on company policy and mobile device categories - providing cost control and device visibility from enrolment to recycle. Users get direct control of lifecycle tasks, through an event driven self-service portal simplifying purchase, repair and replacement needs. ​​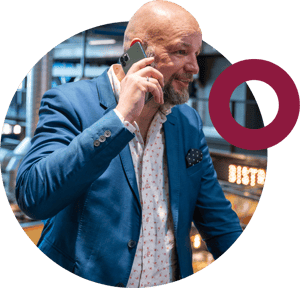 And most importantly, it saves the HR department a lot of unnecessary headaches.
To illustrate some of the ways Techstep Lifecycle can simplify your administration work, below are some examples of services that employees should pay for themselves:
Content services – Purchasing goods and services via mobile phone
Whether using text-to-donate services or voting in the latest Pop Idol poll, employees must cover the costs of such services themselves.
Number information – Services such as directory enquiries
Surprisingly, many people still use manual, dial-up directory enquiry services, although there are now many other, free (or at least much cheaper) ways to get hold of phone numbers.
Extra data package – in addition to the employer's standard package
It is not uncommon for a mobile phone to be the family's WiFi hotspot in the holiday cottage, at home or on the boat. In such cases employees often end up wanting larger data packages than the company's standard package and this can be arranged – providing that the employees cover the difference themselves.
International mobile calls – outside the EU/EEA
If your employees do not work outside the EU/EEA, it makes sense to set an amount limit for costs outside these areas. This will then cover costs incurred by staff who are on holiday and have to do something work-related – and will also reduce the company's expenses for international calls.
The vast majority of employees do not have a problem with their employer not covering everything, as long as there is a defined policy and they can still use their mobile phone to make their daily life easier – on condition that they cover the difference in costs themselves.